Simtel Download WinSite Download Buy It
Download Basic Edition Download Advanced Edition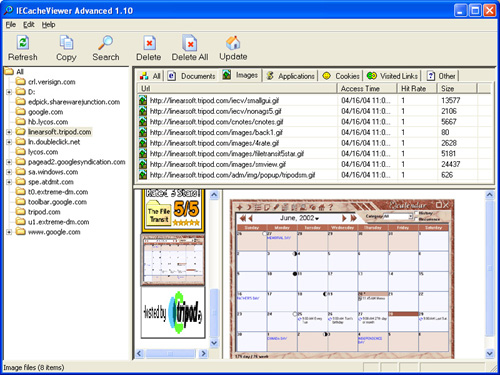 Click to see large image
IECacheViewer is a utility for managing Internet Explorer cache (temporary pages and files downloaded from internet). Besides reviewing capability, it provides the functions to search, copy and delete cache contents.
Usage:
Collecting documents, images, etc.
Researching applications (script, css files, etc) embedded in the document.
Checking where, what and when the user of the computer (like family members, friends) visited the Internet.
Managing cookie files, finding out their content and who created them. You can delete them if you want.
Main Features:
Categorized review list. IECacheViewer allows you to browse cache items by their types like document/Image/Application/Cookie, etc.
Display function. It explicitly shows the cache item in the preview panel.
Properties dialog. It allows you to check detailed information of a cache item.
Sort cache list. It lets you sort the list by simply clicking on list head (URL/Access Time/Hit Rate/File Size).
Search function. It helps you find cache items using keywords, categories and date constraint
Copy function. It allows you to copy cache files to specified folder.
Delete function. It lets you delete selected cache items or delete all cache items.
* Thumbnail function. You can preview all images in a list.
* Cache Tree. It organizes cache contents in a tree structure.
* Advanced version feature.
IECacheViewer comes with two editions:
The Basic Edition is free, you can upgrade to Advanced Edition from Basic Edition
The Advanced Edition has additional features and is free to try for 15 days. After 15 days it will downgrade to basic edition.
To register Advanced Edition, click here. Registration fee is $12.00. Upgrade to future versions is free.
System requirements: Window 95/98/Me/2000/XP, IE 5 or up
Questions and Suggestions, Please send email to linearsoft@yahoo.com
Simtel Download WinSite Download